Op de basisschool hebben leerlingen twee keer per week gymles. Meestal gegeven door de eigen groepsleerkracht. Bij  OBS Atlantis doen ze het sinds dit schooljaar anders. De kleuterbouw met zeven groepen heeft nu een vakdocent. "Voor de inzet van de werkdrukgelden hebben wij zelf kunnen kiezen", vertelt Monique van Daal-Rijn. Monique is leerkracht van groep 1-2. "De directie heeft ons gevraagd wat het team graag wilde om de werkdruk te verlagen en dat is een vakdocent voor de gymles geworden."   
Win-win
"We hebben goed bewegingsonderwijs met veel nieuwe impulsen. Met een vakdocent erbij verbeter je het onderwijs nog meer," gaat Monique verder, "en het levert ons als leerkrachten vrij te besteden werktijd op. Het feit dat je de kinderen kunt overdragen aan een gediplomeerde collega, geeft ons tijd om werk klaar te leggen, registratie bij te werken en lessen voor te bereiden. Super."
Jubelstemming
"Het is pas 2 weken en nu al heerst er een algehele 'jubelstemming' met de 2 gymdocenten die we hebben. Al vanaf de eerste kennismaking met Marianne en Rosalie zijn alle 11 kleuterleerkrachten van ons team heel blij. Ze zijn open en enthousiast, stralen vakkennis uit en staan open voor feedback. Wij  gaven leuke en goede lessen, maar dit is wel een stapje hoger. Qua afwisseling, ideeën, oefeningen; het is leuker en intensiever. Ze doen dingen die we zelf nog nooit bedacht hadden. De kinderen komen bezweet terug in het lokaal. De kinderen vinden het geweldig en meteen in de eerste week kregen we van de ouders terug: 'Ze vinden het gymmen zo leuk!' Gymmen is nu versie 3.0!", sluit Monique glimlachend af.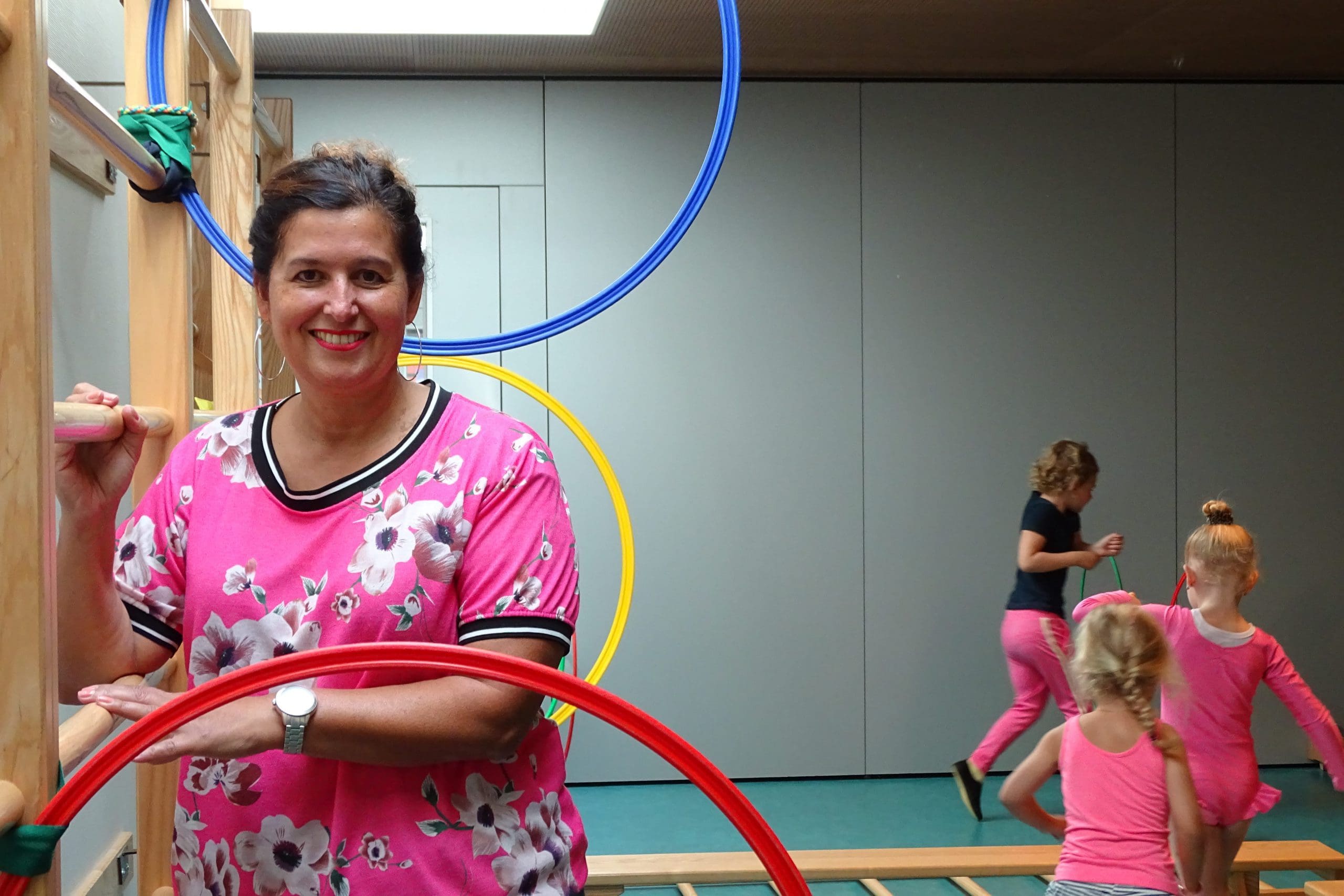 Het is echt een vak
Ook PC Kon Tiki huurt de diensten van de Vakgroep bewegingsonderwijs in. Het is de tweede les na de vakantie en leerkracht David Bras staat bij zijn groep 4 te kijken. "Dit is een nieuwe groep voor mij. Ik kijk hoe de kinderen bewegen en welke kinderen met elkaar optrekken", zegt David. Vanaf 2016 staan bij Kon Tiki al vakdocenten LO voor de groepen. Sinds 2018 komen die van de Vakgroep. "Ik heb zelf ook gymles gegeven. Je merkt dat je een bepaalde handigheid mist. Het is echt een vak! Scholen hebben doorgaans te weinig middelen of docenten om gymles te geven."
Een leraar van de basisschool moet naast het PABO diploma ook een aparte aantekening voor lichamelijke opvoeding  halen om gymles te mogen geven. "Ik heb nu echt twee keer 45 minuten vrij om anders in te vullen. Deze eerste lessen ga ik dus kijken, daarna kan ik me bijvoorbeeld inzetten bij een collega voor remedial teaching."
Het belang van goed bewegingsonderwijs? "In groep 4 groeien kinderen enorm: wie ben ik zelf – met wie speel ik graag – waar hoor ik bij. Voorkeuren worden zichtbaar, met name in de gymles. Ze merken dat ze niet alleen met de eigen 'voorkeuren' te maken hebben, ze leren om te gaan met teleurstellingen en ze leren door te zetten. Ze kunnen vrij in de ruimte bewegen en dan zijn ze meer zichzelf. En dus zie je meer van het kind en de ontwikkeling die hij of zij doormaakt", sluit David af.